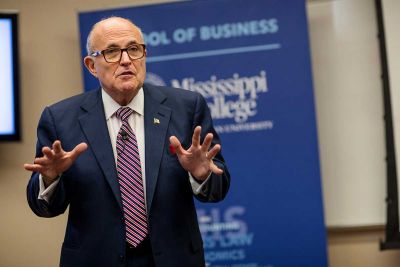 ABOUT THE MC BUSINESS EXECUTIVE SPEAKER SERIES
The Executive Speakers Series is designed to challenge students to examine the business world through the first-hand experiences of business leaders.
The series complements our curriculum, by facilitating student academic and professional engagement through exposure to leaders who have successfully and consistently combined their work and faith. The Executive Speakers Series has a well- established and important tradition in the life of the School of Business, and it is made possible through the support of Renasant Bank.
---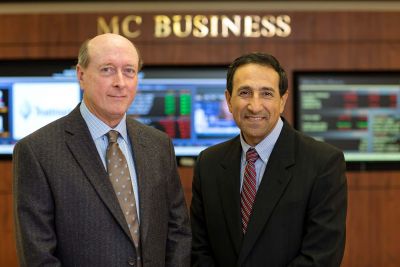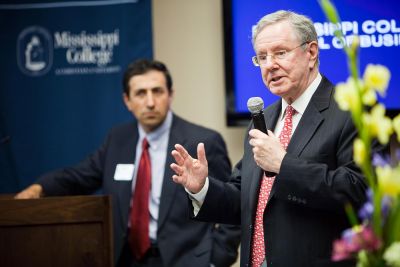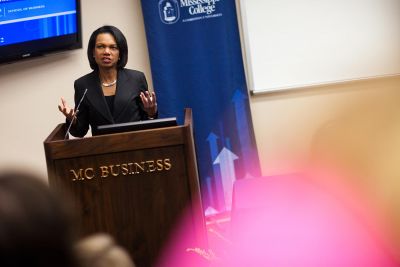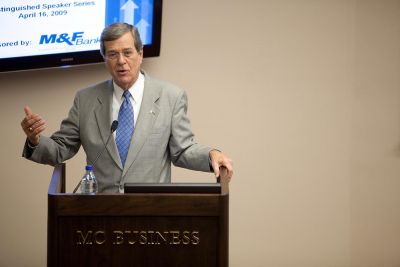 PAST SPEAKERS
Rudy Giuliani - Mayor, New York City
John Brock - CEO, Coca-Cola Enterprises
Steve Forbes - CEO, Forbes Media
Jim Coggin - President, Saks Incorporated
Condoleezza Rice - 66th Secretary of State, United States
Mike Huckabee - Huckabee Report
Frank Harrison - Chairman/CEO, Coca-Cola Bottling Co. Consolidated
Trent Lott - U.S. Senator
David Abney - CEO, UPS
Ed Trehern - President/CEO, Delta Health Group
Al Stubblefield - President/CEO, Baptist Health Care Corporation
Charles Vianey - IBM Global Business Services
Frank Gallher - President, Gallaher & Associates, LLC
Joe C. Morris, Jr. - President, Morris Petroleum Inc.
David Landrum - Senior National Sales Director, Primerica
Joe Stradinger - Founder/CEO, EdgeTheory
Michael E. Dowell - Senior Vice President, Smith Barney, Inc.
High S. Potts - Chairman/CEO, Merchant & Farmers
Gail Pittman - President/CEO, Gail Pittman Inc.
Kurt W. Metzner - President/CEO, Mississippi Baptist Health Systems
Chuck E. Poole - The Lifeshare Foundation
Thomas Hawk - UPS
Todd Woods - Lowes
Gerald M. Abdalla - Croft Metal/Bancroft Foundation
Joel Bomgar - Founder, Bomgar Corporation