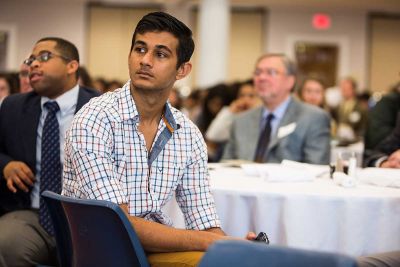 Every area of life – from business and technology to health care and education – requires ethical decision-making. As a result, we believe it is imperative to provide our students with both the skills and knowledge needed to be successful in a career and to prepare them to make tough moral and ethical choices when they are faced with a dilemma.
In 2012, the School of Business launched the first Faith & Business Ethics Week. This week-long program allows students to hear from prominent top-level executives about how they incorporate their faith and live an ethical life within their workplace.
This invaluable experience helps students better prepare and understand the world that waits for them upon leaving Mississippi College. Guest speakers give examples of ethical decisions they faced and how they came out on the other side. The honesty from our speakers has been refreshing and has given students a true perspective into what they will face at one point or another during their career.
Over the years, our guest speakers have also offered challenges to our students about what they can be doing now to make integrity a lifestyle. They have shared practical advice on work-life balance, sharing your faith, and leaving a legacy. The MC School of Business feels so fortunate that each year, successful businessmen and women have taken the time to invest in our students.
"The Faith and Ethics week is a perfect complement to the overall Faith and Ethics initiative within the School of Business. It is important for our students to see the real-life application of the Christian principles taught in the School of Business and to gain a better understanding of what business success looks like in God's eyes. During Faith and Ethics week, students are given an opportunity to engage with local business leaders who exemplify the positive impact Christian service can have on one's life. Students are able to hear the testimonies of business professionals who have faced the struggles of trying to be the salt and light to the business world. " – Bobby Perkins, Assistant Professor